Step right up folks and try to win our awards ! Now here at Amical.net's IRCAddicts, we like to do things a bit different. A lot of sites hand out a Gold, Silver, Bronze and a Web Excellence Award.
The purpose of our award is to award webmasters for a job well done. Web pages take time to build and we think it would be nice to recognize these sites. Our award is no give-away. It must be earned. We offer 4 awards aluminum, tin, copper and rust.
WE have a sense of humor. We take pride in offering our Aluminum Award for Excellence, our Copper Award instead of Gold, our Tin Award instead of Silver and our Rust Award instead of Bronze.
Make no mistake, we take this seriously. We will try to review your page within a week of its submission, depending on amount of submitted sites. Winners will be awarded within two weeks.
Here is our criteria:

Sites with porno, adult, hateful, or offensive content, or links to such sites, will be disqualified immediately.
Sites in English only.
If the site crashes my browser, you are History!
No "Under Construction" signs. All good sites are constantly under construction. If you have a construction sign, guess what ? HISTORY.
If your site tries downloading programs to my computer without my consent, Guess what ? History.
If a site meets these requirements, We will then look at it for:
Content, what the page is about
Originality, in text, humor and graphics
Ease of navigation, we do not want to use the BACK button
Consistentcy in look and layout of the page
Good graphics, otherwise known as eye-candy plus text we can read
No broken images or links
Fast Load Times Under 1 minute, wins Brownie Points, two minutes ( I use a 56k modem) at the longest
Interactive stuff like guestbooks, mailing lists, polls, games and surveys and whatnot.
WE don't like:
A page that contains nothing but a list of links
Excessive advertising banners, this is not what we consider content
Broken images and links, that drives us nuts to go to a page and click a link and it doesn't work
If a site plays music on the page that can't be turned off, we all don't have the same taste in music
The need for certain software to look at your site
Load times over two minutes - Our time is valuable, we don't get paid to do this, not yet anyway. We WILL accept payment though ;)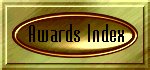 Vote For Us At The Top 50 HTML For This Link:



Here is what our awards look like
One more thing, we took the time to look at your page and IF we do award you, we would at least like to have a link back to us. We also would expect that you would show off your award. You earned it. There will be a page containing the current month's listing of our winners, with a link to your page. Your page will then be placed in an archive of winner's page after one month. Should you drop our link after the month we gave our award, we will drop your link on our winner's archive page.
Now for the fine print. We, the people of Amical.net's IRC Addicts, hope that the response to this award program is great.We are in no way, shape or form responsible for any damages, namely the ugliness of our award, that comes to your page. People, we tried to make a nice award but we failed miserably. Please forgive us. We can't believe you are still sitting there reading the fine print on our award. Again, thanks for your support.
Home | Our Ops Page | Our Regulars Page | Rules Page | IRC Info Page
Humor Page | Humor Page 2 | Humor Page 3 | Humor Page 4 | Win Our web Page award
Awards we've won | Our Award's Winners Page | Guest Book Page | Our Links Page | E-Mail Us