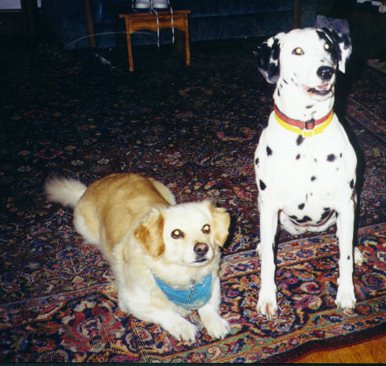 Greetings and salivations, you have stumbled upon Amical.net's IRCAddicts Channel Web Page and Chat Emporium Page. I'm Bingo on the left and the spotted butt-sniffer by my side is Ariel. Our Dad, Harry calls us The Nation of Defacation among other things. Let us tell you a little bit about this page.
Bingo: This Page will contain IRC info, humor, a few IRC scripts our pictures, our web page awards program and lots of fun links.
Ariel: Remember the time we replaced a picture of a lady looking up a cow's butt on the other web page Dad made ?
Bingo: I see that all the time when you beat me out the door to go outside.
Ariel: You are such a butt-sniffer, Bingo !
Bingo: I am not, I can't reach that high to sniff yours. Anyway, we have been asked to introduce you to this award-winning web page
Ariel: This page is the web page for Amical.net's IRCAddicts. You can visit them by downloading IRC from the links provided throughout the page. IRC stands for Internet Relay Chat. You can chat with people from all over the world with this program. Its not quite as good as going to the bathroom on the neighbor's lawn but humans seem to like it.
Bingo: That was rather long-winded, Ariel. Its not also as gratifying as peeing in her water dish either!
Ariel: Hey !
Bingo: She probably thought it was lemonade mix ! Now.... it gives us great pleasure to introduce to you......Amical's IRCAddicts Channel Web Page and Chat Emporium.
Ariel: When you get done here, download IRC and join us.
Bingo: To join us, please type: /server irc.amical.net and then type /join #IRCAddicts
Ariel: Go forth and Navigate, HUMANS !

Use one of these banners to link to us. Use the url http://amicalsaddicts.50megs.com
Home | Our Ops Page | Our Regulars Page | Rules Page | IRC Info Page
Humor Page | Humor Page 2 | Humor Page 3 | Humor Page 4 | Win Our web Page award
Awards we've won | Our Award's Winners Page | Guest Book Page | Our Links Page | E-Mail Us
This page was conceived on December 6, 2000